Gay penguin celebrities and their kids
by twit
via Neatorama, the recently notorious gay penguins in China have turned out to be great parents:
A pair of gay penguins thrown out of their zoo colony for repeatedly stealing eggs have been given some of their own to look after following a protest by animal rights groups.

… 'We decided to give them two eggs from another couple whose hatching ability had been poor and they've turned out to be the best parents in the whole zoo,' said one of the keepers.

'It's very encouraging and if this works out well we will try to arrange for them to become real parents themselves with artificial insemination.'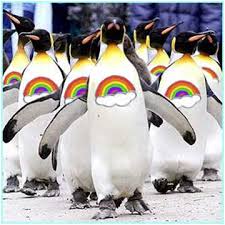 and here is an in-depth story about Wendall and Cass, another gay penguin couple who live in Brooklyn.  Be warned, the article does explain the meaning of the term "cloacal kiss."
There is also a children's book about Roy and Silo, a gay penguin couple who live in Central Park with their baby penguin Tango.
and here is today's editorial from the NY Times, why not.
update! MSNBC reports on Z and Vielpunkt, a gay penguin couple who adopted and hatched an abandoned egg in Germany.